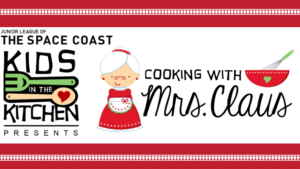 Our Free community event, Cooking with Mrs. Claus is part of our Kids in the Kitchen event series. During our come- and-go event, Mrs. Claus interacts with children while preparing healthy holiday themed snacks. Recommended for families and children ages 6-12.
December 4th, 2021 9:00 AM- 5:00 PM (Held in conjunction with Festival of Trees)
Register for Cooking with Mrs. Claus
Our 2021 Event Features:
Free Healthy Snack Goody Bags for Participants
In-Person socially distanced holiday cooking demos from Mrs. Claus
Online Resources for prepping more healthy holiday recipes at home
We are also piloting a new STEM related literacy community project in 2022. Kids attending Mrs. Claus can receive a holiday STEM related book and make "snow"  while supplies last.
This event is FREE for kids 12 and under accompanied by an Adult with a ticket to Festival of Trees
Email questions to [email protected]
To learn more about Festival of Trees, the JLSC's signature fundraiser, click here.
Want more Kids in the Kitchen activities? Be the FIRST to know about our HUGE Kids in the Kitchen spring expo