38th Annual Festival of Trees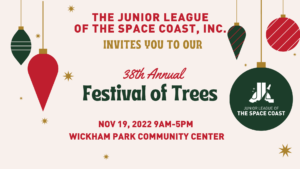 Festival of Trees offers beautifully adorned trees, wreaths, and silent auction items donated by talented designers that are available for purchase via online auction. This family-friendly event is an annual community fundraiser that allows us to continue improving Brevard County through financial and volunteer commitments.
 November 19th, 2022 9am- 5pm
Wickham Park Community Center Gym: 2815 Leisure Way, Melbourne, FL 32935
Admission is available for a $5 Minimum donation to Junior League of the Space Coast. Admission is free for children 12 and under. Want to skip the line at the door? Reserve admission online HERE.
Want to donate a tree, wreath, or silent auction item?
Click HERE to learn how to donate.
Have any questions? You can contact us at [email protected].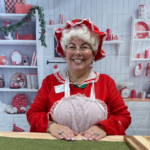 Our Festival of Trees fundraiser also has a free community event, Cooking with Mrs. Claus held at the same time in the Wickham Park Community Center. Mrs. Claus will teach free hands on "cooking"demonstrations with kids. This event is recommended for kids ages 5-12.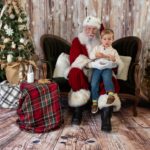 We are offering professional pictures with Santa as part of our Festival of Trees Fundraiser. For a $25 minimum donation, families can receive 3-5 professional images with our Santa. Registration for Pictures with Santa includes free admission into the Festival of Trees Fundraiser.