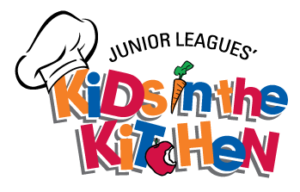 JLSB is proud to announce our 2021 Kids in the Kitchen event, sponsored by Health First. Our event will be held virtually this year as a family-friendly online bingo activity to showcase how kids and their families can eat smart and make healthy lifestyle choices. We invite all of our neighbors in and around Brevard County to participate!
Recommended for families and children, preferably ages 6-12
What Will This Year's Event Look Like?

This year's event will feature a virtual bingo activity that families can complete with their children. Children can participate in up to 25 heath-focused activities to compete for bingo and compete for raffle prizes.

Complete "BINGO" on your virtual card for one entry into our raffle
Complete the entire bingo card for an additional entry into our raffle
Tag @JLSouthBrevard with your child completing a KITK activity for an additional entry into our raffle

When Can I Start Participating in this Event?

Our virtual bingo card is open for submissions from April 16th, 2021 at 8:00 AM to April 25th, 2021  at 5:00 PM. Please complete one submission per family. CLICK HERE to access the virtual bingo card
History of Kids in the Kitchen (KITK)
The Association of Junior Leagues International, Inc. has made child health and wellness a priority since 1901. A 15-year-old AJLI, Inc. tradition, Kids in the Kitchen is a hands-on initiative to educate kids and their families about healthy eating and physical fitness. "The initiative is grounded in the belief that children (and families) empowered with the knowledge of how to feed and exercise their bodies will be less likely to become obese and subsequently suffer many associated health risks."—AJLI, Inc.
Locally, the Junior League of South Brevard is proud to carry on the Kids in the Kitchen tradition here in our community. In the spring of the 2019, over 350 attendees and 50 vendors joined us at Kids in the Kitchen!
Event Partners
JLSB's Kids in the Kitchen would not be possible without support from our community sponsors. Thank you to Health First Foundation for sponsoring this year's 2020 event. To learn more about becoming a sponsor of the Junior League of South Brevard, click Here.